Welcome to the Appalachian Water Watch Alerts Site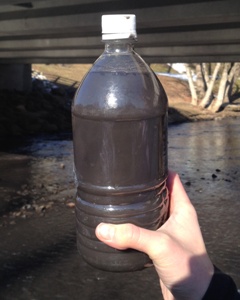 Breaking News: A coal slurry spill has occurred at Patriot Coal's Kanawha Eagle operation. Click here to see the most recent reports about this indecent.
Are you a West Virginia resident who is still smelling MCHM at your home or having symptoms of exposure? Please report your observation to this site so we can help track it. Submit an alert, or call 1-855-7WATERS.
Thank you to everyone who has reported continuing problems in West Virginia related to the MCHM spill! If you submitted a report and it has not yet appeared on the map, it is likely because we need to add a map location for you. We are working to update these reports as quickly as possible. Also, photos may take a few minutes to appear on reports.
This site has been created to help local people in Central Appalachia report and track incidents of water pollution. Emergency spills, such as coal mine sediment and slurry pond spills, tanker truck spills, and natural gas well blowouts, are often only reported to a subset of the community, or only to state agencies. It is often difficult to obtain notification of spills within one's community, or to gain information about how a spill is being dealt with by responsible companies and agencies.
Appalachian Water Watch also serves as a forum for residents to report concerns about drinking water quality. Our team is interested in all types of water pollution, including well and city water.
Through this site, we aim to address these issues by providing:
a means for local people to report spill and contamination events they witness 
independent monitoring and testing of pollution events
electronic notification of spill events to site users
automatic notification to the press of major spill events